Smart home cameras are the most sought after security devices of every household all over the world. This is why homeowners are on the lookout for articles that can help them decide which outdoor camera to purchase for their homes. Go to website if you want to know what makes each of them better than the rest.
Arlo Pro
This camera has one of the best features when it comes to monitoring, surveilling, as well as for stopping unwanted people from getting into your property. With the Arlo Pro, you can have one to six cameras and this also includes a Home Base station. These cameras are wireless so it makes the cameras look more compact and tidier.
The Arlo Pro has motion and audio detection technology that can record and capture video clips which are then stored on a cloud and keep it there for a week. The device will notify your phone if it detects any activity. If you use the app, there is a Live View which will let you access your cameras remotely anytime you want. It is also built with a 105-decibel siren when the camera is triggered.
Arlo Pro 2
This is another Arlo security camera that was released in 2017. This looks more advanced compared to the Arlo Pro. It is built to have extra special features that make it better than its predecessor. This is very easy to set up and you can also add more cameras into the system if you need to. The Arlo Pro 2 is available in different packages where you can get up to 6 cameras. The good thing about Arlo Pro 2 is that it can be wireless or wired and you can also customize the motion zones it covers. Just like the Arlo Pro, it also comes with a Smart Siren.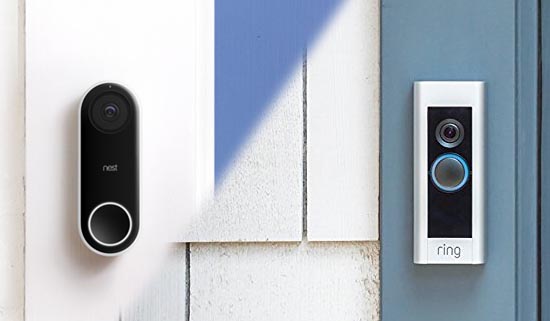 Nest Cam Outdoor
This device comes with specs and feature options that will surely impress you. This is a simple device but the camera is wired to provide its power. This camera continuously records and the footage is stored in Nest Aware. The Nest Cam Outdoor is considered to be better than the other options on this list. This camera also uses an accurate software to determine whether the motion detected is human or not. This Nest Cam Outdoor has a Live view and it can save snapshots taken for the last three hours.
Nest Cam IQ Outdoor
This is the better version of the original model. It is built with smarter software and more impressive high-tech improvements. The camera of this device is larger with an IP66 waterproof rating. The Nest Cam IQ Outdoor can also handle extreme temperatures. Because of its super-smart status and facial recognition feature you can set it up to easily identify your family and friends from the intruders.
Ring Spotlight
With Ring, you can choose from the battery-powred camera, solar-charged, wired, or floodlights. The device looks like the Video Doorbell that is placed on the mountable camera. When the device is triggered by motion, it will shine a spotlight and record the footage which is then stored on the cloud. The Ring Spotlight comes with two LED strips. It is very easy to install and it also has a smart siren. Its unique floodlight feature is what makes it stand out from the rest.
There are now plenty of outdoor security cameras for sale in the market. But you should always consider the most popular names in this industry. So which do you choose, Arlo, Nest or Ring? Yes, these three are the best and the most trusted in outdoor cameras.